1.      Art Auction
Art Auctions are a fun way to bring people together. They celebrate art, but even more so they foster pride in creativity and community building.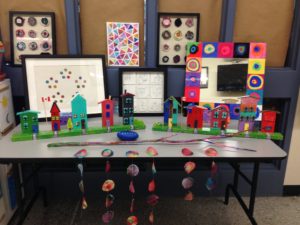 A great way to pull an Art Auction together is by inviting artists to come into your school to work with children. Each classroom in the school is given the opportunity to learn skills and techniques, then takes those skills to work together to create a collaborative art project.
One school where a successful Art Auction took place hosted an adult cocktail party, which coincided with the school's 100th anniversary. All of the completed projects were displayed prior to the event. On the evening of the cocktail party, some of the pieces were part of a live auction, while others were included in a silent auction.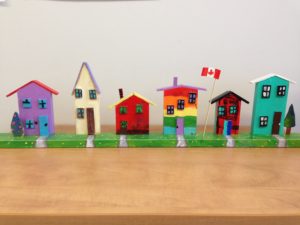 This is just one example of the many ways to build a buzz about your school's creativity. Budding Artists has many ideas for projects you can create suitable for live and silent auction pieces. Check out our Pinterest board for ideas.
2.      Art Sale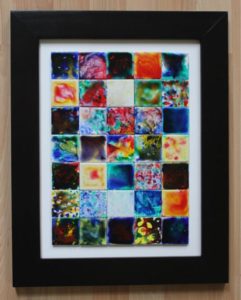 Are there budding artists at your school with an entrepreneurial spirit? Have them show off their talent and raise money at the same time with an Art Sale.
Art Sales are a great way to highlight student talent and encourage creativity. Have students create artwork to include in an Art Sale. The sale can be part of a larger occasion, like a school play, or used as a stand-alone fundraising event, similar to a lemonade stand idea. Display artwork near the school's front entrance or outside of the office to attract attention and drum up sales. The money raised by the sale of the artwork can help buy further art supplies to potentially host another Art Sale or go towards other school needs.
One Philadelphia based company, which successfully uses Art Sales for fundraising for some of their programs, is Fresh Artists. They provide art supplies to lower income public schools with the money raised through a clothesline art sale. Children involved feel good about creating art and at the same time help those in need. The company also sells artwork to companies to hang in their offices.
Does that give you any ideas?
3.      Art Wall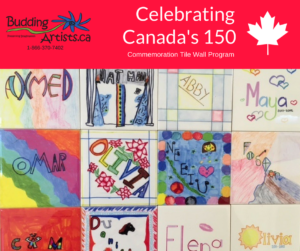 Does your school have a celebration coming up? Perhaps an anniversary or special event to commemorate? What are you doing to mark Canada's 150th birthday? An Art Wall might be just the thing to honour that.
Art walls are a beautiful way to get your whole school involved in a celebration. Have each child create a self-portrait to get included on the wall. The colourful mosaic becomes a stunning centerpiece to observe your occasion and to remember it long afterwards.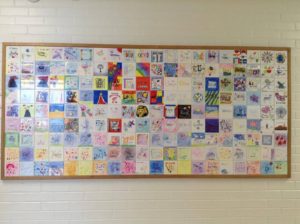 Budding Artists sells the tiles for $5 a tile. If the plan is to use this as a fundraising initiative, you sell the tiles for a higher price to your parents. The difference in price becomes your profit. The Art Wall becomes a thing of beauty for the whole school to enjoy.
4.      Create Class Posters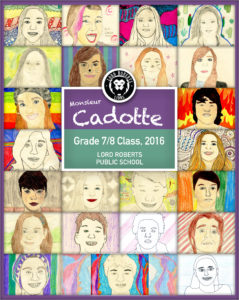 Is your child's class looking to promote themselves for one reason or another? Perhaps they are looking to fund a special field trip or to donate funds to a charity of their choice. A Class Poster might be just the thing.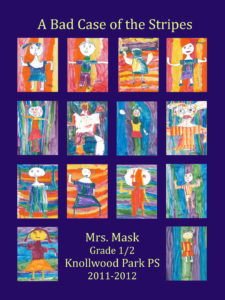 Class Posters are easy to create. Have each child create a self-portrait. Place each image on the poster for the individual class. Add the school's name, and the name of the teacher, and the grade. For a wider school fundraiser, have each class create their own Class Posters.
One school that Budding Artists worked with had the posters printed at the school board in their Media Department. The cost of the posters was $8 apiece, but they further laminated the posters and sold them for $15. Budding Artists provided the scanned images and their Graphic Designers created the posters to create wonderful keepsake items for all involved.
5.      Holiday Cards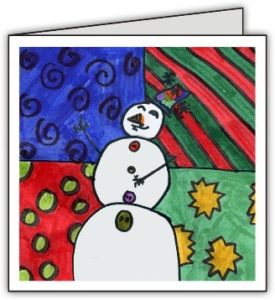 Is sending cards over the Christmas holidays a tradition? If not, consider sending Valentine's cards if Christmas is too busy.
Make your cards even more festive this year with Holiday Cards designed by your kids. Budding Artists has a program to help make the process easy. Have the children create art and leave the rest to us.
One of the schools that works with Budding Artists is Ecole Eduoard Bond. Making Christmas cards with holiday themed artwork has become a tradition at their school. They have raised over $1500 with the help of Budding Artists. To increase their selection to choose from, they added Christmas ornaments, art magnets and mugs this year.
6.      Art classes
Are you looking for extracurricular activities for children other than physical fitness classes? Would you like to interest your children in art, or foster a better confidence in their artistic abilities? Did you know that making art helps people to communicate, problem solve, tap into a deeper creativity, and is just plain fun? The solution might be to hire an artist and offer Art Classes.
Art Classes can be part of an after-school program or offered as a PD Day activity. With a talented and experienced artist on hand, the only other things needed are art materials and a space to work in. Get the word out to your school community and advertise to drum up interest.
7.      Create a Perpetual Calendar
Calendars help keep us organized, but they don't have to be just a dull tool. A Perpetual Calendar made from vibrant, artistic images made by your child keeps you on task in a fun and personalized way. Plus, you can enjoy it for years to come.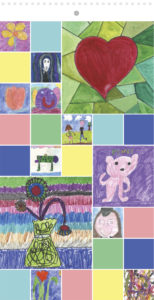 Wondering how to raise funds with a Perpetual Calendar? Why not host an art contest and choose images from your entries for the calendar? Pick a theme for the contest—this year is Canada's 150th birthday! They can be sold individually or include them in an Art Show or Sale.
8.      Art Show
Do you want to showcase children's artistic skills? Hold an Art Show! Show them that their artwork is valued more than for a brief stint on the fridge.
In order to maximize the success of your Art Show, organize an art class prior to the event. Select each child's best piece and frame it or create a canvas for the show. If you incorporate the cost of the production of the canvas into the price of the art class, then the profit from the sale of them becomes your profit.
If you choose to charge admission to your event, provide refreshments. Well-nourished customers are more apt to purchase a canvas and increase your profit. Regardless, children will experience a moment of pride when they see their artwork displayed for the Art Show. If parents choose not to purchase the artwork, the child still keeps the original art to enjoy.
9.      Budding Artists
Budding Artists has plenty of ideas of how to incorporate children's artwork into your fundraising plans. We have been encouraging and valuing creativity by preserving and showcasing artwork for 10 years! Let us make some suggestions for you.
Choose between two programs:
Artrageous: Everyone participates in facilitated art creation. Order forms go home showing 20 different products, which incorporate your child's artwork, such as trivets, shirts, canvasses, etc. The products get sold to your organization at wholesome costs and you set the selling price to determine your fundraising return. The suggested retail price nets you a minimum of 25% net sales, depending upon your pricing.
Artistically Yours: Similar to our Artrageous program, Artistically Yours takes your child's artwork and transposes it onto our products. Children create art, which gets scanned and uploaded onto a personalized order form. The order forms go home for you to select from some of the eight stationery products available: notebooks, cards, journals, sketchbooks, etc. All participating children get a bookmark with their name and art image on it, as well as their order. The profit margin is approximately 25%, depending upon orders.