At Budding Artists, we love portraits especially when created by our children. There are so many different ways of drawing a portrait. As kids get older, I would show them how to draw a face using appropriate proportions. Check out Deep Space Sparkle's portrait guides.  Patty Palmer's lessons are great and worth the cost.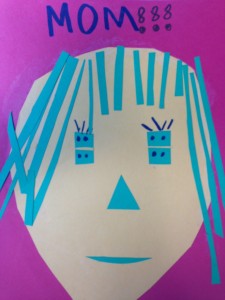 This is a collage version of me when my child was 7 years old. I love the double eyes and eyelashes.
This one was done when she was a bit older and she was playing around with liquid watercolours and a straw.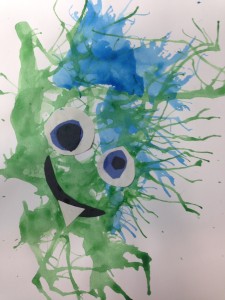 Do you have a portrait of yourself? For ideas on creating portraits, check out our Pinterest board collection.
April 25th is our deadline for a Mother's Day delivery. Create a one of a kind gift using a picture of  Mom doing, saying and dreaming of her favourite activity.  Why not use your children's artwork as design on one of our functional products. This month  we are offering  special for potholders for $25 for a set of two.  This is a special only till April 30, 2016. We are bringing this special product for a limited only.