For many of us, the end of the school year is fast approaching. And, if your family is anything like mine, the last day is a sweet reminder of how much our kids have grown and changed! A year's full of achievement and adventure is contained in a backpack and one brimming garbage bag! Last year, my kid brought home one winter mitten, dried up markers, another kid's report card, dirty laundry, worksheets, newsletters from October, and a hurricane of artwork. Ah, those magical moments!
It can be overwhelming to think about organizing and cleaning up. There are some things that can't wait, like getting the dirty laundry in the hamper and weeks-old food in the compost. But, the scraps of long forgotten math tests, books of creative writing, and artwork? Markers and other art supplies? As tempting as it is to relegate the garbage-bag-of-adventure to the basement to sort through in August, resist the urge!
Here's 5 helpful tips for the last day of school:
1. Here's how I decide to sort the paper that comes home.
Make two piles: memorabilia and other. The memorabilia pile includes creative stories, artwork, awards, self-portraits, photos, report cards and handprints. The other is a pile of newsletters, tests, planners, and workbooks that can all be let go. (See #5!).
2. Ask your child to help you organize the memorabilia pile.
We always keep creative stories, school photos, and most of their artwork. Many families also hold onto report cards, awards or mention of the student in a newsletter. Figure out what's important to you, and ask your child what they want to keep. We set aside the artwork that we want to frame or gift (see #3), and for the rest of it (creative stories, report cards, awards and photos) put them in a D-ring binder with page protectors. That way your kids can pull them out and look at them every now and again, and important papers won't get wrecked or lost.
3. Manage the artwork.
If your kid is anything like mine, she can make up to 5-10 pictures each day. So, ask your kids to help decide what artwork is important to them. Are they proud of it? Is there a story behind it? Has a theme emerged? Set aside the truly wonderful art pieces in a portfolio, designated drawer or box to have them turned into great memories later in the summer. Consider making themed art into a poster. Traveling this summer? Artwork is the perfect gift when visiting out of town family and friends. Or, hold on to the artwork to gift to grandparents at upcoming holidays. (We always give away artwork that is ready to use or framed. We have lots of ideas to preserve memories at Budding Artists. Believe us, you don't want the artwork to go in someone else's drawer.)
4. Recycle art supplies.
Did you know that all brands of dried-up markers, sharpies, pens, and highlighters can be recycled? Markers are made from #5 polypropylene, a recyclable material, and can be dropped off at your local Staples' Terracycle Program.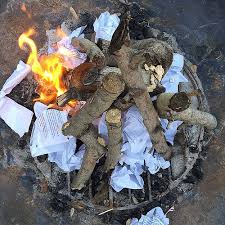 5. Bonfire!
Remember that paper pile of worksheets? Ball up every single spelling test, phonics paper, math worksheet and newsletter and watch them burn at a family bonfire! Don't forget to toast marshmallows and hotdogs for the perfect end of year celebration!