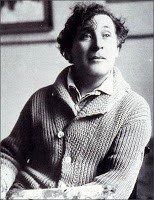 Marc Chagall was born near Vitebsk, Russia on July 6, 1887. He was the oldest in a family of nine children of a poor Hassidic Jewish family. During that time, Jews were segregated from the Russian school system, so Chagall attended a Jewish religious school until the age of 13. In a daring move, his mother bribed a professor to let him into the Russian high school, where he was introduced to the new and foreign world of artistic creation. He was immediately taken with the concept of creating art and decided then and there that he would become an artist himself.
By 1906, Chagall was on his way to fulfilling that dream. He discovered a small art studio in Vitebsk and was taken in by Yehuda Pen, where he was taught art and portrait painting. Not content to simply paint academic portraits, Chagall managed to relocate to St Petersburg, where he enrolled at one of the many art schools in Russia's capitol. Naturalistic self-portraits and landscapes were a mainstay of his style during this time. He then met Leon Bakst, whom he studied under until 1910. Bakst was a fellow Jew and a renowned artist in his own right. He helped to introduce Chagall to the theatre and another world of stage sets, costume design and other artists (ie. Paul Gauguin) that would influence him over his life.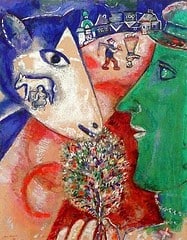 I and the Village – 1911
In need of a change and at a point where he felt that he could use an expansion of his artistic style, Chagall moved to Paris in 1910. There he met several poets and discovered the Cubist movement. While he was heavily influenced by this new style for him, he brought to it a love of colour that became a trademark of his own personal style throughout his life. He enrolled at La Palette and soaked up all aspects of Parisian life and art. It was a time of extensive creativity for him and he painted many canvases, gouaches, watercolors, as well as several drawings. He also attracted the attention of a German art dealer, who invited him to display his art at an exhibit in Berlin in 1914. It was well received and Chagall returned to Vitebsk as a more notable artist, with a plan to marry his sweetheart Bella and return to Paris with her. While back on Russian soil, World War I broke out though and the borders were closed, keeping Chagall and his new bride there.
Life in Vitebsk during the war years was kind to Chagall and his new family. He had a child, Ida, and became a Commissar for Fine Arts, followed by the Director of the brand new Free Academy of Art. In 1922, he relocated back to France and stepped back into the art world there that he loved so much. Over the years that followed, he enjoyed a growing fame, with exhibits in France, as well as a first exhibit in the United States in 1926. In 1931, he travelled to Palestine to delve into the history of the Jews and their mythologies in order to better understand and create illustrations for a copy of the Old Testament of the bible  for Ambroise Vollard. His two months spent in the holy land unleashed a brand new fascination with biblical images, that carried through into much of his later artwork.
The coming of Hitler and the Second World War brought a devastating change across Europe. While Chagall was focused on his work, he missed many of the initial signs of what was to come, until it was almost too late. With the help from some dedicated American art enthusiasts, he was smuggled out of France in 1941. He lost his beloved wife in 1944, due to a virus infection and withdrew from his work for a period of time. The horror stories about concentration camps appalled him though and he slowly returned to the art scene. After the war finally ended, he mourned his French home and decided to return in 1948, settling in Cote d'Azur.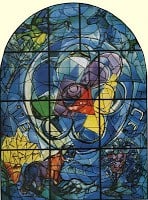 The Tribe of Benjamin (Stained Glass) – 1962
Chagall remained in France for the rest of his days. He explored the mediums of sculpture, ceramic art, murals, mosaics, stained glass, painted vases, tapestries as well as wall tiles, in addition to his paintings and graphic art. Throughout all of his varied mediums he reveled in colour and often had happy scenes depicted. He seemed always to draw from his early days in Vitebsk, pulling scenes from his love of the circus and Jewish life. He displayed influences of Fauvism, Cubism and Surrealism, but created a style that was all his own over his long artistic career. The world lost a magnificent artist on March 28th, 1985.
Despite his passing, Chagall has left behind a wonderful legacy. Considered to be an early Modernist, he is a master artist worth celebrating.